Argument that Violence Driving Surge in Illegal Immigration Unconvincing
According to internal memos and news reports, the main driver of illegal immigration continues to be economic motivations.  The recent surge in illegal immigration, including the increase in illegal alien minors, by the admissions of the aliens themselves, is the result of Obama Administration policies, and the continuing promises of amnesty from leaders of both parties in Congress, which has been noted by media outlets in Central America.Increased violence, notably a rise in homicides in the sending countries, has been
touted
as the cause of the unprecedented influx of illegal aliens across the U.S. southern border.  However, data from the United Nations shows that homicide rates in El Salvador and Guatemala are at a much lower level than in past years, and the homicide rate in Honduras is beginning to abate after a sharp rise that took place between 2006 and 2011. If murderous violence were the primary motivating factor spurring illegal immigration from these countries, the influx would have occurred much earlier. In contrast, Mexico, which has seen a sharp rise in its homicide rate in recent years, has sent many fewer illegal immigrants into the U.S. since 2009.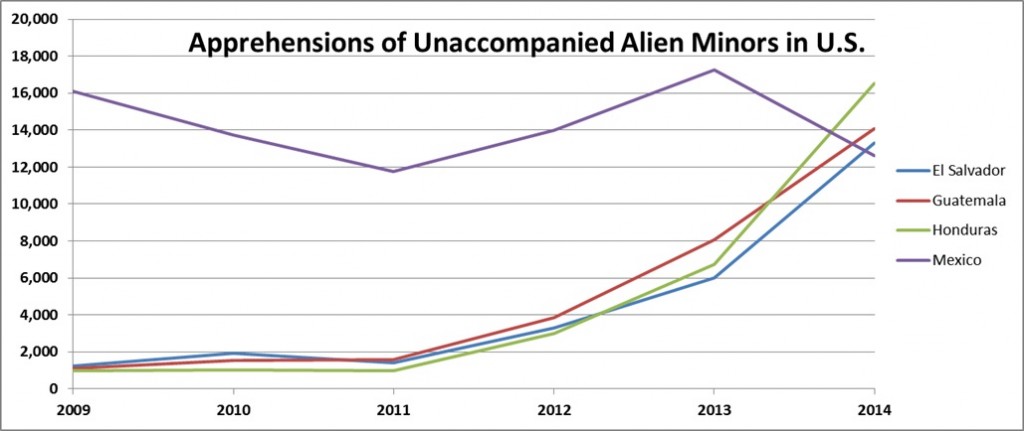 The United Nations data do not go beyond 2012, but there are no indications that that the conditions in Central American have changed to such an extent to account for the massive surge in illegal border crossers. In fact, a
brief
prepared by the El Paso Intelligence Center (
EPIC
), created by the federal government to focus on U.S.-Mexico border issues, found that "violence is not likely the principal factor driving the increase in UAC migration." Relying on information from the U.S. Border Patrol, EPIC stated that:
Of the 230 total migrants interviewed, 219 [95%] cited the primary reason for migrating tothe United States was the perception of U.S. immigration laws granting free passes or permisosato UAC and adult female OTMs [Other Than Mexican] traveling with minors.
EPIC also found that:
…a large number of migrants interviewed claimed family members in the United States encouragedtheir travel because the U.S. government would cease issuing permisos after June 2014. Migrantscited Univision, Primer Impacto, Al Rojo Vivo and several Honduran television news outlets forhelping shape their perception of U.S. immigration policy.
Honduras, which by far has the highest murder rate among Central American countries, as well as the highest in the world, has seen its murder rate decrease prior to the surge of illegal aliens from that country into the United States. Official statistics from the Honduran government, which records homicides up until June 2014, reveal that the murder rate in Honduras has dropped, yet apprehensions recorded by the U.S. Border Patrol of illegal alien minors from Honduras have greatly increased.[caption id="attachment_7262" align="alignnone" width="605"]
Data from July 2014 to Dec 2014 projected based on Jan 2014 to Jun 2014 statistics.[/caption]As
FAIR
pointed out last week, most of the information about the illegal aliens comes from the aliens themselves. What we do know is that many who are coming are
not children
, are
not unaccompanied
, are
not trafficked
, and are not coming because they are fleeing a sudden increase in violence in their home countries.** In
testimony
to the Senate's Homeland Security and Governmental Affairs subcommittee,  none of the three witnesses who claimed that violence was driving the surge in illegal immigration could point to a single precipitating violent event in Central America that could explain the sudden spike in number of illegal aliens from that region.