New Op-ed: Open-borders Advocates Shamelessly Exploit the Surge of Minors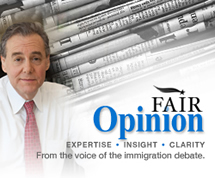 In an op-ed published in The Hill, I address the role of the mass immigration and amnesty lobby in creating the current crisis at the border. The op-ed notes that laws, drafted with inordinate input from immigration lawyers and immigrant advocacy groups, have created judicial gridlock that works in favor of illegal aliens attempting to remain in the United States.
The complete op-ed can be found on
The Hill's website
.