Can Obama Pardon Illegal Aliens?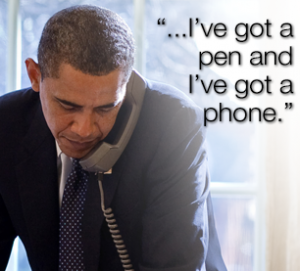 President-elect Donald Trump has promised to end President Obama's Deferred Action for Children of Aliens program (DACA).  As a result, advocacy groups have been calling on President Obama to
pardon
the approximately 750,000 applicants approved under DACA. According to the pro-illegal alien narrative, this would place the DACA applicants on a "path to citizenship."But there is a problem with this narrative: the pardon power doesn't apply to
civil
offenses.  Although crimes are most often perpetrated upon individuals, criminal acts are considered to be offenses against the community as a whole. Criminals are prosecuted in the name of the government,
e.g., State v. John Doe
. And they are punished by imprisonment, in order to deter antisocial behavior.Civil violations consist of behaviors that interfere with the administrative interests of the state. They typically include violations of building codes and the failure to maintain one's property in a safe condition, and similar acts. Rather than punishing them with imprisonment, the state imposes fines to recover some of the expenses caused by the violation.Article II, Section 2, Clause 1 of the Constitution is very clear that, "The President…shall have the Power to grant Reprieves and Pardons for Offences against the United States, except in cases of impeachment." In other words, the president can pardon federal criminal offenses, but not civil violations. While Improper Entry by an Alien is a misdemeanor
crime
, unlawful presence in the United States is a
civil violation
. Therefore, a presidential pardon would erase the crime of illegally entering the United States but would have no effect on the civil offense of unlawfully remaining.The presidential power to pardon derives from old English law. It served as a mechanism to restore the rights lost by a felon who, although guilty of a crime, had fallen prey to extenuating circumstances. It was not a tool for the king to willfully evade those laws he disliked. And such an abuse would likely have led to his overthrow.Frustration with President Obama's misuse of executive authority appears to have been one of the factors that caused American voters to elect Donald Trump president. Rather than compound his past errors with an "amnesty-by-pardon" scheme, President Obama should heed the will of the people and let the Trump administration sort out the mess caused by his illegal DACA policies.