Could Donald Trump's Immigration Policies Start Working Before He Takes Office?
Donald Trump's proposed immigration policies could realistically start seeing results before his inauguration. The president-elect's platform for reforming the nation's broken immigration policies includes
three important points
, among others: end dangerous catch-and-release policies; stop illegal sanctuary cities; and reverse the trend of allowing more and more benefits to illegal aliens. If these policies are enforced, many would-be migrants will think twice about coming to the U.S. illegally because the benefits may no longer outweigh the cost.These policies have obviously not been enacted yet, and presidential administrations are notorious about straying from what they promised on the campaign trail. However, illegal aliens and their proponents are taking the president-elect
at his word
. "Now that Donald Trump has been elected president, I don't feel safe," said Claudia Quiñonez, an illegal alien residing in Maryland. "I can be deported."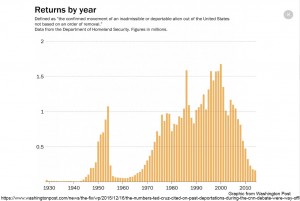 This type of reaction is similar to what occurred before former president Bill Clinton passed his (ultimately watered down) immigration reforms in 1996. He gave
impassioned speeches
about fixing a broken system. "The jobs they hold might otherwise be held by citizens or legal immigrants," he said. "The public services [illegal aliens] use impose burdens on our taxpayers. That's why our administration has moved aggressively to secure our borders more by hiring a record number of new border guards, by deporting twice as many criminal aliens as ever before, by cracking down on illegal hiring, by barring welfare benefits to illegal aliens," he continued.Illegal immigrants responded to his rhetoric and actions by choosing to leave the U.S
. of their own free
will in record numbers. During Clinton's administration, at least 11.5 million illegal aliens "self-removed" themselves, compared to only 870,000 deportations under the administration. The annual number of these removals increased dramatically after he made immigration a priority in 1995 and 1996. Conversely, under the Obama administration and his non-enforcement policies, self-removals dropped to levels not seen since the 1960s.The general consensus among illegal aliens who are willing to publicly express their opinions, seems to be a belief that Trump will take a stronger stance on immigration than the outgoing president has. If the Clinton administration is any indication, many illegal aliens will make the decision to leave on their own terms before the president-elect's reforms are officially enacted.While many in the mainstream media paint the fear of deportation amongst illegal aliens as a travesty, it should actually be the goal of the federal government considering illegal immigration is a crime. And the resulting self-removals are a desirable result. If unauthorized migrants decide to return to their home countries in lieu of facing law enforcement measures, they do the federal government a favor, and save themselves from being formally deported.There is nothing wrong with the federal government promoting the enforcement of our existing laws. Those who break our laws – immigration related or otherwise – should worry about the consequences of their actions. Effective rule of law is a cornerstone attribute of American sovereignty, and it protects the jobs and lives of U.S. citizens.