Action Alert! End Birthright Citizenship!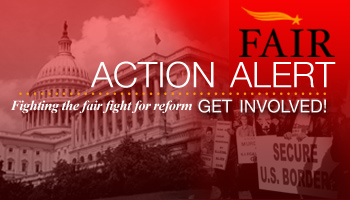 Call Now and Make Your Voice Heard!
Did you know that if an illegal alien gives birth in the U.S. the child is a U.S. citizen? Then, once the child turns 21 he or she may sponsor family members for legal permanent resident (green card) status and put them on a path to citizenship.
It's true!
Known as "
birthright citizenship
" — it is the practice of automatically granting U.S. citizenship to anyone born in the United States, regardless of the parents' immigration status.Now, true immigration reformer Senator David Vitter (R-LA) is trying to eliminate this magnet for illegal immigration. Specifically, Sen. Vitter introduced an amendment to the Justice for Victims of Trafficking Act of 2015 (S. 178) that would close this loophole. The Vitter amendment would amend the Constitution so that children born in the U.S. only gain citizenship automatically if one parent is either (1) a U.S. citizen; (2) a legal permanent resident; or (3) a non-immigrant active member of the Armed Forces.
Call your Senators NOW and urge them to support the Vitter Amendment!
The current practice of birthright citizenship is based on a misinterpretation of the 14th Amendment. The Vitter amendment restores the original intent behind the "subject to the jurisdiction thereof" clause of excluding from automatic citizenship American-born persons whose allegiance to the United States is incomplete.Time is of the essence, the Senate is working on S. 178 THIS WEEK! It is critical that the Vitter Amendment receive a vote so all Senators can be on the record for where they stand on birthright citizenship.Even the Obama Administration recognizes that birthright citizenship encourages unlawful behavior and abuse of the system! Indeed, just last week federal law enforcement raided the offices of an Irvine, California company that encourages foreign pregnant women to come to the U.S. to give birth, promising them benefits like citizenship and free education. Known as "birth tourism," these companies arrange for a fee — ranging from $15,000 to $50,000 — for pregnant women to come to the U.S. and advise them to provide false information on visa applications.
Call your Senators NOW!
If you are from Louisiana, thank Senator Vitter for introducing this commonsense legislation that combats mass illegal immigration. If you are from any other state, tell your Senators:
You oppose the current practice of birthright citizenship
You support the Vitter Amendment which is consistent with the intent of the 14th Amendment
You expect them to demand Senate Leadership allow a vote on the Vitter amendment
You expect them to support the Vitter amendment
To find your Senators, click here.
Then, after you have called your Senators, call Senate Majority Leader Mitch McConnell (R-KY) at 202-224-2541 and demand that he allow a vote on the Vitter Amendment.Sincerely,-FAIR