House Leadership Border Bill Makes Process of Removing Alien Minors Worse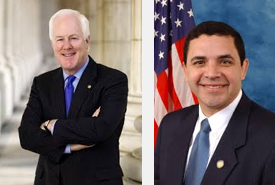 Overview.
 Yesterday (July 29), House GOP Leadership introduced its border bill to respond to the President's request for $3.7 billion in additional funding to address the border crisis. The core policy provision in the bill — a revision of the William Wilberforce Trafficking Victims Protection Reauthorization Act of 2008 (TVPRA 2008) (P. Law 110-457) — is based on Title I of S.2611, introduced by Sen. John Cornyn (R-TX) and Rep. Henry Cuellar (D-TX). (
S.2611
)The Cornyn-Cuellar bill significantly changes how the Department of Homeland Security (DHS) processes unaccompanied alien children (UACs). Most importantly, it adds a new, cumbersome layer to the way DHS processes illegal alien minors. FAIR published a summary of the Cornyn-Cuellar legislation
as introduced
. Below is a summary of the legislation as amended by the House Leadership bill. FAIR opposes both S.2611 as introduced and as amended by the House Leadership bill.
Read More…