What the Sheriffs Learned on the Border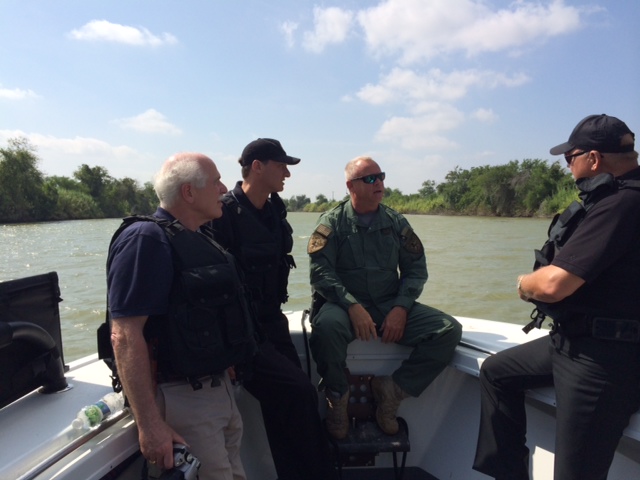 Editor's Note: This week, Susan Tully, the National Field Director for FAIR, is participating in a fact-finding trip on the U.S.-Mexican border with seven sheriffs from
Maryland
,
Massachusetts
,
Illinois
,
North Carolina
and Oregon. She sent the updates below to describe their first day in McAllen, Texas.
Wednesday morning:
We have been in a round table meeting all morning with the Hidalgo County sheriffs. They have worked with the 
Department of Public Safety
 (DPS) and Border Patrol since last September after the Border Patrol received intel that a tremendous increase of unaccompanied alien minors were coming. Border Patrol was already maxed out and overwhelmed.The agencies together have ceased almost all enforcement of trafficking and drug dealing. Apprehending families and unaccompanied alien minors (UAMs) is nearly the sole activity now for Border Patrol. The DPS sheriffs have funding to continue the task force until this September, so the question is if things don't slow down who is going to do the enforcement then?I am writing from the
Border Patrol Station
, and they just had 39 women and children turn themselves into authorities. There are also 340 additional people here being processed.
Wednesday afternoon:
Folks, all law enforcement we have spoken with today have stated that it is policy rather than the lack of resources that is driving this crisis. All of them said the one thing that would change this crisis immediately would be if they could treat minors from Central America the same as Mexican minors! That needs to be changed this week and could be!The very law written to protect human trafficking is what is causing mass trafficking. The cartels are advertising throughout Central America and they are getting $4,000-$5,000 per person to deliver them to the U.S.  This is making millions of dollars per week for the cartels, and it won't stop without policy changes.