Reid Believes in the Rule of Law—When it Suits Him
"It's not over," said Senate Majority Leader Harry Reid (D-Nev.) this week in reference to the "cattle battle showdown" between a rancher in Nevada and the federal Bureau of Land Management that has made national news in recent days.
Last Saturday, the federal government released the 400 head of cattle it had seized from rancher Cliven Bundy, who, the Bureau says, owes more than $ 1 million in grazing fees for letting his livestock feed on public land (Bundy stopped paying monthly grazing fees in 1993).  However, despite the Bureau's return of Bundy's cattle, Sen. Reid has vowed that the feds will not back down: "We can't have an American people that violate the law and just walk away from it. So it's not over," he told a reporter.
So, if an American fails to obey the law for twenty years, loses in court, and then summons supporters to protest the federal government's decision to enforce the law after years of violations, Sen.
Reid does not want the feds to back down. However, if the lawbreaker is an illegal alien, not an American citizen, Sen. Reid, of course, takes an entirely different tune. For illegal aliens, he supports amnesty and citizenship as a reward for breaking federal laws, and encourages those who agitate for non-enforcement.
Senator Reid ought to realize that if the leader of the Senate holds the laws he doesn't like in contempt, more Americans may start feeling the same way.
[caption id="attachment_6417" align="aligncenter" width="422"]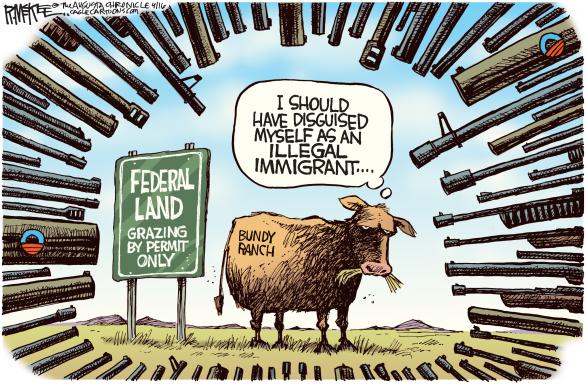 Cartoon by Rick McKee. Published in the Augusta Chronicle on April 15, 2014.[/caption]
Tags