Cantor Intent on Using Military as Pathway to Amnesty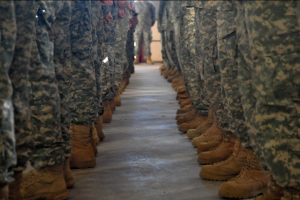 House Majority Leader Eric Cantor's (R-Va.), latest legislative gambit is to
sneak
an amnesty provision into the National Defense Authorization Act (NDAA) that would reward an illegal alien with a green card for simply
enlisting
in the military. While Cantor is a somewhat
abashed
supporter of amnesty, he is resolutely
committed
to it, which only makes his conniving all the more seamy. Apparently Cantor believes that he can
sell
enough of his fellow Republicans on this vote, since it exchanges amnesty in return for military service, because what could be controversial about allowing illegal aliens to swear an
oath
to faithfully serve the country whose laws they have demonstrated contempt for?Is this the first piece of the puzzle of immigration legislation (re: amnesty and massive increases in legal and guest worker admissions) that Cantor alluded to on the House floor last November? Clearly, his corporate bosses are growing desperate for action. Attaching an amnesty rider to a must-pass piece of legislation only invites more mischief, including giving Harry Reid the opportunity to attach the Senate Gang of Eight immigration bill to the NDAA and sending it back to the House, where it could pass with Cantor and his allies voting with the Democrats.Cantor has been pegged as one of the "young gun" candidates to challenge for the Speaker's gavel when Boehner steps down. Clearly, Cantor believes that solidifying his donor base is key to securing the Speaker's chair. However, he risks alienating his fellow Republicans, as well as voters in his district, where Cantor's immigration stance has won him a primary challenger, Randolph-Macon College economics professor,
David Brat
.Cantor's stance on immigration isn't any different than that of the old guard, which is likely how he has climbed the leadership ladder. The establishment of both parties has worked to undermine any serious border security or interior enforcement efforts for the past thirty years. Today, illegal aliens can get
driver's licenses
,
in-state tuition
at public universities,
teach in public schools
,
practice law
, and even attend the State of the Union address as
guests
of the President. If Cantor gets his way, illegal aliens will soon be enlisting in the military.When Ronald Reagan signed legislation in 1986 granting amnesty to 3 million illegal aliens, he said, "Future generations of Americans will be thankful for our efforts to humanely regain control of our borders and thereby preserve the value of one of the most sacred possessions of our people: American citizenship." Will using the U.S. military to process green cards for illegal aliens preserve that sacred value?
Tags