Talk Radio Hosts Go to DC to Send a Wake Up Call on Immigration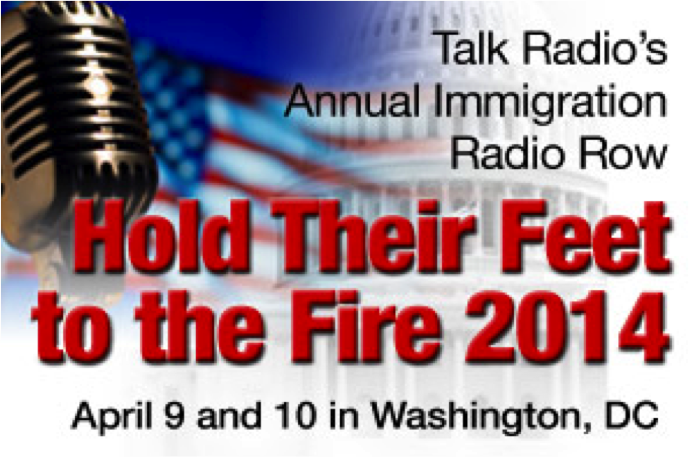 Hold Their Feet to the Fire 2014,
an annual radio row
organized by FAIR may be one of this year's best indicators for the future of immigration reform. The event occurs on April 9-10 on Capitol Hill and features the largest gathering ever of talk radio hosts gathered on a single issue.Dozens of hosts from across the country will spend two days discussing immigration policy with listeners, lawmakers, law enforcement, immigration experts, activists and members of the media live from radio row while broadcasting their shows back to their home markets.In a
Townhall.com op-ed
in February,
Joyce Kaufman
, talk radio host for WFTL in West Palm Beach, Fla. explained the goal of these radio hosts:
In short, do what the law says and what the public wants. It's not too much to ask and we'll be pressuring our lawmakers to do it while we're in Washington.Hear us, fear us, and join us. We're talk radio – America's Electronic Town Hall – and we're proud of speaking the truth and holding our public officials accountable for the one basic thing we've elected them to do; serving our broad national interests.
The radio event occurs while the Department of Homeland Security reviews their
deportation practices
with a goal of expanding the categories of illegal aliens who will be exempted from removal.The national radio row will also coincide with – and attempt to blunt –
a massive lobbying
effort by
special interests
to
resurrect S.744
, the Gang of Eight amnesty bill. This occurs with an even more
aggressive push
by
corporate interests
to convince House Speaker John Boehner (R-Ohio) to
enact legislation
that grants them greater access to
low-wage foreign labor
, even as some 20 million of Americans are unemployed or underemployed.Hold Their Feet to the Fire 2014 punctuates the increasing
GOP divide
over the immigration issue. Days after releasing a set of "
immigration principles
" Boehner backpedaled due to
public disapproval
and announced that legislation is
unlikely in 2014
. The
Wall Street Journal
directly credited talk radio
for that decision, a
sentiment
echoed by
NPR
:
The truth is, the wind had shifted; and it had taken only a weekend. Within hours of leadership bringing forth its principles on Jan. 30, they were being denounced by conservative activists, bloggers and radio talk shows. The central objection: the idea that those now in the country illegally should have a path, albeit a difficult one, to legal status.
However, Dan Stein, the president of FAIR, warns activists and talk radio that the threat isn't over:
 But the moment the pressure is off, Boehner may proceed. Thus, our goal, and the goal of the hosts participating in Hold Their Feet to the Fire 2014, is to make sure that the House leadership continues to hear the voices of the American people and is reminded that it is their interests that our immigration laws are supposed to serve.
Boehner has already proven this warning to be true. Just 20 days after downplaying any Republican attempts to take up immigration this year, Boehner had a "
healthy conversation
" with President Obama on the issue. Jay Carney, White House Press Secretary,
corroborated
Boehner's report, "I can certainly confirm that immigration was one of the topics they discussed. I can certainly confirm that there is broad agreement that this is an issue that needs to be addressed."Since some House Republicans are currently working to sneak a form of amnesty through the
National Defense Authorization Act
, Hold Their Feet to the Fire 2014 comes at the perfect time to send another wake-up call to Congress.