Join FAIR for Tonight's State of the Union
While
recent polls
* report that immigration
is not a top priority
for the majority of Americans, President Obama is
expected
to
renew
his push for a mass amnesty of illegal aliens in his 2014 State of the Union address tonight.
FAIR will cover the speech live tonight on
Twitter
, and you can follow us right here at ImmigrationReform.com starting at 9 p.m. eastern.If you have questions or comments, leave a note below in the comments section or send a tweet to
@FAIRimmigration
.If following FAIR on Twitter, use
#noamnesty
and
#SOTU
to join the conversation.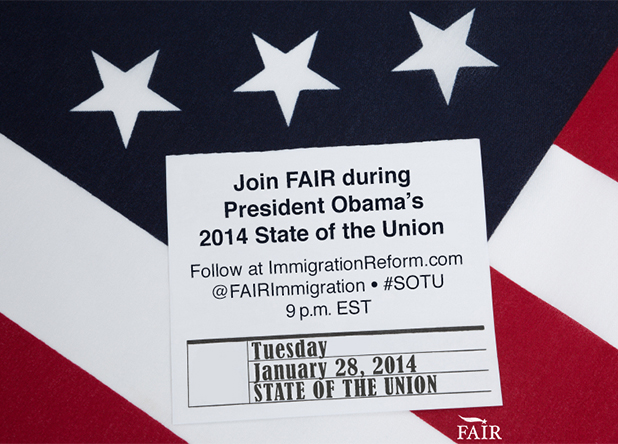 Tweets by @FAIRImmigration
*An
NBC News/Wall Street Journal poll
released today found that 42% believe "passing new immigration legislation" can be delayed until next year, and 17% believe it shouldn't be pursued at all (
see page 13 for details
).Earlier this month,
Gallup reported
that
only 3% of U.S. adults
believe immigration is a priority.