White House Meets with McDonald's, Marriott, Not ICE officers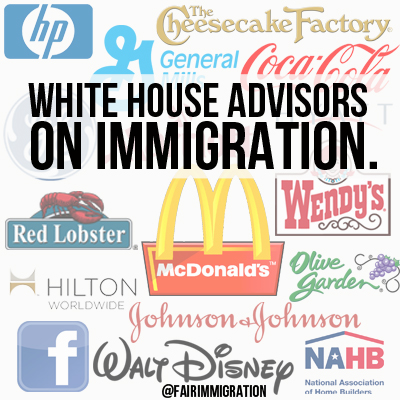 The Obama administration continues to court support for amnesty and mass immigration from big business execs.
Yesterday
, the White House hosted the CEOs of Marriott, McDonald's, and State Farm – the first two are already solidly in the pro-amnesty camp, having
sponsored
the "conservative" fly-in last week.Despite numerous letters to the administration and recently House Oversight Chair
Darrell Issa
, ICE officers' concerns and whistleblower complaints are being ignored during the amnesty push.The National ICE Council is now taking its complaints to the people who seem to be making our immigration policy – CEOs and amnesty lobbyists. In a letter to CEOs, big business campaign donors, and groups like La Raza, union president Chris Crane
writes
:
"Only influential and affluent groups and wealthy individuals like you were given an opportunity to provide real input on our nation's new immigration laws…"
"While this legislation may satisfy your personal financial or political objectives, it undermines immigration enforcement and worsens the immigration problems currently experienced in the United States…"
"As you fight for special protections and legalization for violent criminal offenders and gang members illegally in the United States, certainly you must realize that in doing so you sacrifice the safety of every man, woman and child residing in the United States…"
In closing Mr. Crane requests to meet with the CEOs and lobbyists who believe they know more about immigration enforcement and what's best for the country than the ICE officers who deal will illegal immigration every day.We won't hold our breath waiting for their response.