State & Local Bills: April 30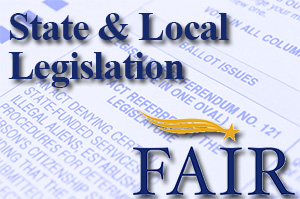 See what state legislation we're following this week. 
California 
Assembly Bill 60
, which removes the lawful presence requirement from California's driver's licenses statute, was voted out of the Assembly Transportation Committee (11-4) and referred to the Appropriations Committee on April 23.
Senate Bill 150, which grants in-state tuition rates to illegal alien high school students who attend community college before high school graduation and 1) attended school in California for one year or more; 2) is enrolled in a California High School; 3) is enrolled in a California Community College, and signs an affidavit stating has filed an application to legalize status or will do so when eligible, is set for a hearing on May 1 before the Higher Education Committee.
ColoradoHouse Bill 1258, which repeals the Colorado law that prohibits local sanctuary policies, was signed by the Gov. John Hickenlooper (D) on April 26.
Senate Bill 251, which repeals Colorado's prohibition against issuing a driver's license or ID card to a person who is not lawfully present in the U.S., passed the Senate on April 25 by a vote of 20-15 and has been introduced in the House and assigned to State, Veterans, & Military Affairs Committee.
To be licensed, the person must prove the payment of Colorado taxes for the previous year and provide, from the applicant's country of origin, a valid passport, consular ID card, or military identification. A person may provide an individual taxpayer identification number instead of a social security number. The driver's license or ID card will indicate that it is not valid for federal ID, voting, or public benefit purposes and is not considered a "secure and verifiable document" under Colorado law. The license or ID card is valid for three years. The law also prohibits peace officers from arresting an individual for merely possessing the identity document. Nearly $890,000 was appropriated under the act to implement it.
FloridaHouse Bill 235, which grants Deferred Action for Childhood Arrivals (DACA) recipients driver's licenses, passed both the House (115-2) and Senate (36-0).
House Bill 691, which criminalizes the unlawful possession of the personal identification information of another person without consent (i.e., SSN, driver's license or ID card number, alien registration number, government passport number, employer or taxpayer ID number, Medicaid or food assistance account number, bank account number, credit or debit card number and medical records), unanimously passed the House (118-0) and unanimously passed the Senate with amendments (38-0).
GeorgiaGovernor Nathan Deal signed into law Senate Bill 160 that strengthens and closes several loopholes inGeorgia's immigration-enforcement law passed in 2011 (see House Bill 87). SB 160 expands the definition of a "public benefit" for which illegal aliens are not entitled to include grants, the homestead exemption, public and assisted housing, retirement benefits, driver's licenses and tax credits. The bill also redefines the term "secure and verifiable document" for identity purposes, including applying for a driver's license, to exclude any foreign passport unless the passport is submitted with a valid United States Homeland Security Form I-94, I-94A, or I-94W, or other federal document specifying an alien's lawful immigration status, or other proof of lawful presence in the United States under federal immigration law.
MississippiHouse Bill 673, which strengthens Mississippi's human trafficking law was signed by the Gov. Phil Bryant (D) on April 25.
MissouriHouse Bill 275, which requires all employers and public contractors to use E-Verify, passed the state House on April 23 and has been introduced in the state Senate.
MontanaHouse Bill 297, an E-Verify bill supported by FAIR, has been sent to Gov. Steve Bullock (D) for signature.
New York Assembly Bill 3787, which requires DHS notification when an illegal alien is convicted of a crime involving a dangerous weapon or firearm, will be heard on April 30 before the Assembly Codes Committee at 11 a.m.
North CarolinaHouse Bill 786, an immigration-related omnibus bill, will be heard on May 1 before the House Judiciary Subcommittee B at 10 a.m.
OregonSenate Bill 833, which grants driver's licenses to illegal aliens, was passed by the Senate and is scheduled for third reading in the House on April 29.
To be eligible, the illegal aliens must present proof of: 1) at minimum 1 year residency in Oregon, and 2) identity and date of birth by submitting a foreign passport or consular ID card or other "valid documentation." The so-called "driver card" would be valid for 4 years and is not valid for ID purposes.
TexasHouse Bill 793, which adds assisting, guiding, or directing three or more persons to enter or remain on agricultural land without the consent of the owner to the crime of unlawful transport, will be heard on May 1before the Senate Transportation Committee at 8 a.m.