Nancy Pelosi's "Alternative Facts" about Sanctuary Policies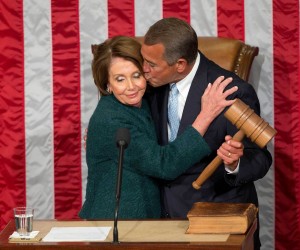 In the early 2000s,
General Motors discovered a deadly flaw in the ignition switches
in some of its cars, but chose not to reveal that information to its customers. That cover-up by GM resulted in
124 deaths
. GM was found to be criminally liable for those deaths and incurred a $900 million penalty in addition to civil fines and a hefty bill for repairing the dangerous defect in their products, all of which cost the company some $2 billion in total. Needless to say, GM was also required to stop using this dangerously defective part in the vehicles they sell to unsuspecting consumers.GM's appalling attempt to avoid a costly recall, even as they knew their defective product was responsible for numerous deaths, did not escape the attention of Congress. In 2014
congressional committees grilled GM's CEO
, Mary Barra, expressing understandable outrage that her company valued the corporation's bottom line more than the lives of its customers.This type of arrogant disregard for human life, however, is not limited to giant corporations. Some 300 jurisdictions across the United States maintain sanctuary policies that shield illegal aliens, including criminal aliens, from deportation. These policies – dangerously defective products devised by city, county and state governments – have been directly responsible for many more deaths than GM's indefensible actions. Yet, such policies are staunchly defended by federal, state and local government officials.One of the victims of sanctuary policies was Josh Wilkerson, who was tortured and brutally murdered by an illegal alien who was shielded by de facto sanctuary policies in Houston. Josh's mother, Laura Wilkerson, confronted one of the main political apologists for sanctuary policy in a
nationally televised CNN town hall
. Not just any politician, but the Minority Leader of the U.S. House of Representatives, Nancy Pelosi, who represents perhaps the most notorious sanctuary jurisdiction, San Francisco. San Francisco's strictly enforced sanctuary policy was, of course, directly responsible for the death of Kate Steinle in July 2015.Much like the corporate bean-counters at GM who were willing to sacrifice 124 lives rather than incur the cost of fixing their defective product, Pelosi made it clear that while Josh Wilkerson's death, and the lives of other victims of criminals who were set loose by sanctuary jurisdictions, is regrettable, the ideological goals of the open borders lobby take precedence.Even worse, in defense of the sanctuary movement's ideological goals, Pelosi offered up her own set of "alternative facts." "[I]n our sanctuary cities, people are not disobeying the law," Pelosi told Mrs. Wilkerson. "These are law-abiding citizens."The people who are protected by sanctuary policies are
not
citizens and they
are
disobeying the law – every single one of them. By their mere presence, they are disobeying our nation's immigration laws. And some of those who are protected by sanctuary policies have broken more than our immigration laws; they have broken the lives and hearts of people our immigrations laws are meant to protect. And neither Nancy Pelosi's revision of the truth, nor any other set of "alternative facts" can alter that reality.