Legislation to Give States Reins on Refugee Resettlement in 2017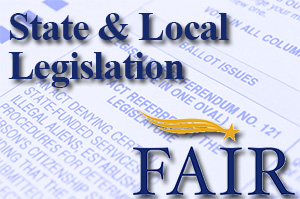 Lawmakers around the country are introducing legislation to give states more control over refugee resettlement in the United States.  Opposition to mass refugee resettlement soared this year following recent terrorist attacks globally by extremists posing as Syrian refugees. The most notable attack occurred in Paris, France, in November 2015, resulting in 130 fatalities.  Such legislation underscores the need for reform on the federal level of its Refugee Resettlement program and need for greater consultation and cooperation with state and local officials in the placement process.Legislators from two states joined in the efforts to facilitate state and local leaders' participation in refugee resettlement, as already required by federal law. Missouri Representative Jeff Pogue (R-143) introduced a measure to the General Assembly last month to help give Missourians a say in refugee resettlement in their state. Under
House Bill 203
, the Missouri General Assembly must approve refugees before they can be relocated into the state. Representative Pogue has yet to provide additional information regarding how this process will be implemented.Georgia Senator Josh McKoon (R-29) also announced his plans earlier this month to introduce a measure to allow the state to withdraw participation from the federal Refugee Resettlement Program. If passed, Georgia could become the fifteenth state in the country to refuse participation.  Currently, fourteen states refuse participation in the Refugee Resettlement program. States that withdraw from the program, often referred to as "Wilson-Fish" states, do not participate in the placement process or administer aid to refugees, unless specifically required by state or federal law. Often, the federal government gets around states that refuse to participate with the program by contracting with third party organizations to facilitate placement of refugees into those states. Withdrawal from the Refugee Resettlement program, however, will ensure state taxpayer resources are not spent in the resettlement process.Additionally,
federal legislation introduced by U.S. Representative Scott Perry (R-Pa.)
last year sought to require state governments' approval over the resettlement of refugees.  H.R. 6119, also known as the Allow State Sovereignty Upon Refugee Entry (ASSURE) Act, would have required the Office of Refugee Resettlement (ORR), to submit a detailed plan to each state where refugees are to be resettled.  This plan would require a list costs expected by the state for housing, education, health care, and any other subsidies. In addition, vaccination records, health records, criminal history, and possible terrorist ties of refugees would have to be disclosed in the report. After submittal of the plan to the state government, it must be ratified by the state legislature and signed by the governor in order for refugee resettlement to proceed. A similar version of this bill is expected to be reintroduced this year if the upcoming Trump administration fails to reform the federal program.