Immigration in the 2016 Democratic Platform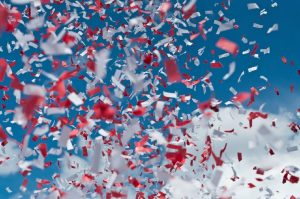 On the first day of the Democratic convention in Philadelphia, the party released its
official platform
– a nonbinding document that serves as a guide for Democratic policymaking at every level of government.Among other things, this year's platform calls for creating "a pathway to citizenship" for most illegal aliens, taxpayer benefits for illegal aliens, expanding refugee admissions, and an end to enforcement "raids."While a more thorough analysis is forthcoming, FAIR has compiled sections of the platform that address immigration below.
Excerpts from the Preamble:
We are proud of our heritage as a nation of immigrants. We know that today's immigrants are tomorrow's teachers, doctors, lawyers, government leaders, soldiers, entrepreneurs, activists, PTA members, and pillars of our communities.
[…]
The stakes have been high in previous elections. But in 2016, the stakes can be measured in human lives—in the number of immigrants who would be torn from their homes; in the number of faithful and peaceful Muslims who would be barred from even visiting our shores; in the number of allies alienated and dictators courted; in the number of Americans who would lose access to health care and see their rights ripped away.
The section "Fixing our Broken Immigration System" in its entirety:
The United States was founded as, and continues to be, a country of immigrants from throughout the world. It is no coincidence that the Statue of Liberty is one of our most profound national symbols. And that is why Democrats believe immigration is not just a problem to be solved, it is a defining aspect of the American character and our shared history.The Democratic Party supports legal immigration, within reasonable limits, that meets the needs of families, communities, and the economy as well as maintains the United States' role as a beacon of hope for people seeking safety, freedom, and security. People should come to the United States with visas and not through smugglers. Yet, we recognize that the current immigration system is broken.More than 11 million people are living in the shadows, without proper documentation. The immigration bureaucracy is full of backlogs that result in U.S. citizens waiting for decades to be reunited with family members, and green card holders waiting for years to be reunited with their spouses and minor children. The current quota system discriminates against certain immigrants, including immigrants of color, and needs to be reformed to the realities of the 21st century. And there are real questions about our detention and deportation policies that must be addressed.Democrats believe we need to urgently fix our broken immigration system—which tears families apart and keeps workers in the shadows—and create a path to citizenship for law-abiding families who are here, making a better life for their families and contributing to their communities and our country. We should repeal the 3-year, 10-year and permanent bars, which often force persons in mixed status families into the heartbreaking dilemma of either pursuing a green card by leaving the country and their loved ones behind, or remaining in the shadows. We will work with Congress to end the forced and prolonged expulsion from the country that these immigrants endure when trying to adjust their status.We must fix family backlogs and defend against those who would exclude or eliminate legal immigration avenues and denigrate immigrants. Those immigrants already living in the United States, who are assets to their communities and contribute so much to our country, should be incorporated completely into our society through legal processes that give meaning to our national motto: E Pluribus Unum.And while we continue to fight for comprehensive immigration reform, we will defend and implement President Obama's Deferred Action for Childhood Arrivals and Deferred Action for Parents of Americans executive actions to help DREAMers, parents of citizens, and lawful permanent residents avoid deportation. We will build on these actions to provide relief for others, such as parents of DREAMers. We will support efforts by states to make DREAMers eligible for driver's licenses and in-state college tuition. We will invest in culturally-appropriate immigrant integration services, expand access to English language education, and promote naturalization to help the millions of people who are eligible for citizenship take that last step.We believe immigration enforcement must be humane and consistent with our values. We should prioritize those who pose a threat to the safety of our communities, not hardworking families who are contributing to their communities. We will end raids and roundups of children and families, which unnecessarily sow fear in immigrant communities. We disfavor deportations of immigrants who served in our armed forces, and we want to create a faster path for such veterans to citizenship. We should ensure due process for those fleeing violence in Central America and work with our regional partners to address the root causes of violence. We must take particular care with children, which is why we should guarantee government-funded counsel for unaccompanied children in immigration courts. We should consider all available means of protecting these individuals from the threats to their lives and safety—including strengthening in-country and third-country processing, expanding the use of humanitarian parole, and granting Temporary Protected Status.We will promote best practices among local law enforcement, in terms of how they collaborate with federal authorities, to ensure that they maintain and build trust between local law enforcement and the communities they serve. We will also vigorously oversee any programs put in place, to make sure that there are no abuses and no arbitrary deportation programs. We will establish an affirmative process for workers to report labor violations and to request deferred action. We will work to ensure that all Americans—regardless of immigration status—have access to quality health care. That means expanding community health centers, allowing all families to buy into the Affordable Care Act exchanges, supporting states that open up their public health insurance programs to all persons, and finally enacting comprehensive immigration reform. And we will expand opportunities for DREAMers to serve in the military and to then receive expedited pathways to citizenship.We will fight to end federal, state, and municipal contracts with for-profit private prisons and private detention centers. In order to end family detention, we will ensure humane alternatives for those who pose no public threat. We recognize that there are vulnerable communities within our immigration system who are often seeking refuge from persecution abroad, such as LGBT families, for whom detention can be unacceptably dangerous.We reject attempts to impose a religious test to bar immigrants or refugees from entering the United States. It is un-American and runs counter to the founding principles of this country.Finally, Democrats will not stand for the divisive and derogatory language of Donald Trump. His offensive comments about immigrants and other communities have no place in our society. This kind of rhetoric must be rejected.
An excerpt from the section "Securing Universal Health Care":
Democrats believe that all health care services should be culturally and linguistically appropriate, and that neither fear nor immigration status should be barriers that impede health care access.
An excerpt from the section "Americas":
The Americas are a region of singular strategic, economic, and cultural importance and opportunity for the United States. Democrats reject Donald Trump's proposal to build a wall on our southern border and alienate Mexico, a valuable partner. We will instead embrace our neighbors and pursue strong, fruitful partnerships across the region, from Canada to Latin America and the Caribbean. We will bolster democratic institutions, promote economic opportunity and prosperity, and tackle the rise of drugs, transnational crime, and corruption. We will strengthen the U.S.- Caribbean regional relationship through economic development and comprehensive immigration reform. And we will build on our long-term commitment to Colombia and work with Central American countries to stabilize the Northern Triangle.
An excerpt from the section "Refugees":
The world is experiencing a major refugee crisis with more than 60 million people displaced as a result of conflicts in the Middle East, Africa, and Eastern Europe. We support President Obama's call for an international summit to address this crisis so that every country assumes its responsibility to meet this humanitarian challenge. While Donald Trump proposes banning Muslim refugees, we will look for ways to help innocent people who are fleeing persecution while ensuring rigorous screening and vetting.
Tags