Victims of Out of Control Immigration Testify Before Congress, Ask for Accountability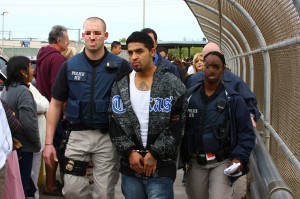 Two grieving mothers joined a local county sheriff in testifying before the House Judiciary Immigration and Border Security Subcommittee earlier this week about the toll that uncontrolled immigration has taken on their families and communities.
Laura Wilkerson
described
how her son Joshua was tortured and murdered in 2010 by an alien who had overstayed his visa for eight years.  The killer had been arrested on a harassment charge only months before, but immigration officials failed to take custody of him. 
"My youngest son, Joshua, was a senior in high school and had his whole life ahead of him. He went to school and never returned … I am stunned, shocked, and saddened that we are even having this discussion. When are you going to act on it, when are you going to do something about it," she asked.
Another victim of America's failed immigration policies, Michelle Root,
detailed
 the loss of her daughter Sarah to an illegal alien drunk driver just hours after graduating from college.  Her daughter's killer was not considered an immigration priority by local immigration enforcement official and later posted bail and fled. Root urged the Obama Administration to enforce immigration laws while also expressing support for legislation to strengthen the enforcement of U.S. immigration law.
"It's just devastating that the laws we have in place were not carried out. The local law enforcement did their job. They detained him, went to ICE and tried to get a hold on him. ICE refused. I don't know why that was with everything that happened but he is on the loose now. So our family does not have closure; we probably will never have closure even he is found … Despite all the tragedy, Sarah still is the hero in this story. She was an organ donor."
Frederick County, Maryland, Sheriff Charles Jenkins
described
how the nation's failed immigration laws have allowed criminal gangs to flourish in his community. "The consequence of these policy failures is the rapidly growing presence of criminal alien gangs. The criminal alien gang numbers are growing, and the serious crimes being committed are increasing. There is also a nexus between the deferred action on unaccompanied minors and the increases we are seeing in gang crimes," he noted.
Committee Chairman Trey Gowdy (R-S.C.) noted the irony of earlier this week when the lawyer for the president told the Supreme Court that enforcing current immigration laws would tear families apart.  "If you want to see that damage, Mr. Solicitor General, if you want to see what tearing apart looks like: I hope you are watching this morning," said the congressman.