Debating Immigration in Sound Bites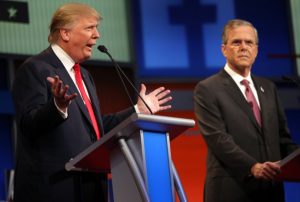 The
GOP presidential candidates' debate in Milwaukee
highlighted the difficulty in dealing with sensitive immigration issues in sound bites. The moderators phrased questions aiming at getting 'yes" or "no" responses. But, only someone who does not understand the issue would be comfortable with a sound bite response.One of the most heated exchanges in that debate occurred over the question whether the candidate, if elected president – would deport the 11-12 million illegal aliens. The thrust of the questioning was to provoke a split between those who would support some legalization program, i.e., amnesty, for the illegal alien population and those who refuse to accept another general amnesty like that enacted in 1986.Attempting to provoke a "yes" or "no" response plays into the hands of the supporters of amnesty because it allows them to characterize their opponent as cold-hearted and unrealistic. Those who rejected amnesty were derided as unrealistic as well as uncaring by establishment candidates who apparently believe they can win more Latino votes by embracing some form of amnesty.This debate format makes it difficult for a candidate to take a nuanced position that demonstrates that he or she understands the human impact of deportation and has weighed the negative impact of deportation on the aliens as well as their families which may include U.S.-born children against the negative impact that illegal immigration has on the U.S. public.A more nuanced discussion is one that amnesty supporters try to avoid because they do not want to concede that there are negative impacts on society in general and individual Americans from illegal immigration.So, how could a presidential candidate answer the amnesty "yes" or "no" question?"Our immigration law is designed to protect Americans from unwanted immigration, and if we continue to accept illegal immigration through amnesties like the one in 1986, we will perpetuate the harm to Americans that has come from the job competition, crowding of schools, criminality and demands on scarce social service resources that should be available for our neediest citizens."
Q.
"So you support rounding them up and sending them home?
A.
"When our law enforcement officers at all levels find persons in the country illegally they should get those aliens into deportation proceedings. And efforts to deny competition for jobs from illegal workers need to be made more effective so that future illegal immigration is discouraged and current illegal residents realize that their future lies in returning to their home country."
Q.
"So you support breaking up families by deporting the parents of U.S. citizen kids?
A.
"The 'mixed-status' families issue is a false dilemma. It is based on a misreading of the 14
th
Amendment. The children born to illegal aliens in the U.S. should not have ever been considered U.S. citizens. In any case, they have the parents' nationality and can accompany the parents when they leave voluntarily or are deported.
Tags