The Winnable Battle Republican Leaders Refuse to Wage on Immigration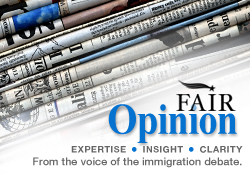 Last week, the Republican congressional leadership announced that they would drop their effort to defund President Obama's unconstitutional executive amnesty programs in the FY 2016 budget. In an op-ed published on Townhall.com, I explain why this decision represents an abdication of Congress's constitutional responsibilities and a squandered opportunity to force the president and his allies in Congress to defend an unpopular move.
The complete op-ed can be read here.