Obama's Amnesty Threatens National Security and Congress Must Defund It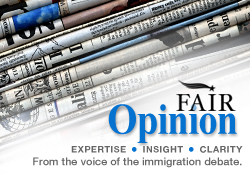 On Tuesday, the Senate defeated an effort to include provisions defunding President Obama's massive executive amnesty program in the Department of Homeland Security Appropriations bill. This move sets up a showdown with the House, which has already moved to defund the amnesty.
In an op-ed
published on the Townhall.com blog site, I discuss why allowing the president's amnesty to move forward with his amnesty plan poses a greater danger to homeland security than the consequences of a budget impasse.The complete op-ed can be read
here
.