This Date in President Obama's Administrative Amnesty: October 5, 2012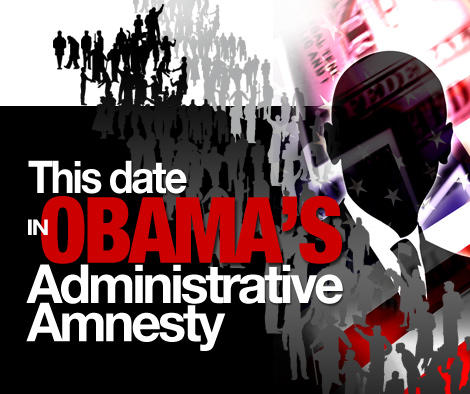 On October 5, 2012, Immigration and Customs Enforcement (ICE) refused to deport Mr. Jose Antonio Vargas, outspoken pro-amnesty journalist and openly admitted illegal alien and felon. Mr. Vargas first made headlines when he described his life as an illegal alien and admitted to committing multiple felonies in order to drive, live, and work in the United States in The New York Times magazine in June 2011.
Instead of being embarrassed when asked why the law enforcement agency did not detain and begin removal proceedings on Vargas, ICE showed defiance. "Mr. Vargas was not arrested by ICE, nor did the agency issue a detainer," said an ICE spokeswoman. "ICE is focused on smart, effective immigration enforcement that prioritizes the removal of public safety threats, recent border crossers and egregious immigration law violators, such as those who have been previously removed from the United States."
In the years after Vargas' first contact with ICE in 2012, he has continued to promote his celebrity status as an illegal alien living in the open under the Obama Administration.  In July, he was finally briefly detained by the Border Patrol after travelling to the epicenter of the border crisis in the Rio Grande Valley in McAllen, Texas, to protest on behalf of the illegal border crossers. Because security measures in McAllen were heightened during the crisis, while there he wrote articles and gave interviews stating that he was "trapped at the border" because he had no visa. He went to the airport anyway, and tweeted pictures of his Philippine passport and a pocket copy of the U.S. Constitution from the security line.  When he reached the head of the line, he simply announced to the Border Patrol agent that he had no legal travel documents. At that point, Border Patrol agents took him into custody, but he was released the same day with a notice to appear before an immigration judge.
According to Vargas, the Department of Homeland Security (DHS) released him because he was "low priority." He also claims that his "Warrant of Arrest for Alien," which he claims DHS told him to take wherever he went, did not have a date on it for him to appear before an immigration judge. Rather than wait, he retained a lawyer to "press the issue" by applying for deferred action, though he does not actually meet the criteria for DACA, the policy which President Obama established for illegal aliens younger than him. DACA itself is an unconstitutional usurpation of the legislative power by the executive branch. It seems that while Vargas likes to use a pocket Constitution as a prop, he isn't interested in what it actually says.