The 12 Days of Amnesty...the 10th Day
On the 10th Day of Amnesty, Secretary Napolitano was sued by
…10 ICE agents.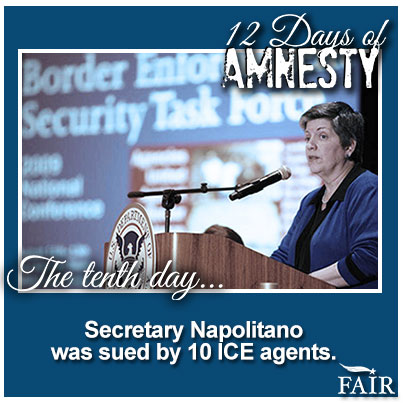 After years of the Obama administration 
dismantling
 immigration enforcement, Immigration and Customs Enforcement (ICE) agents had enough. Ten of them 
united to sue
 the then Secretary of Homeland Security Janet Napolitano and ICE Director John Morton.The ICE agents 
claimed
 that the DHS leaders violated federal law by using prosecutorial discretion to grant administrative amnesty to broad classes of illegal aliens. The agents 
argued
 — and a Texas district court has agreed — that the deferred action program for illegal aliens under 31 years-old forces them to violate federal law by prohibiting them from arresting or placing in removal proceedings every illegal alien they encounter who is not clearly and beyond a doubt entitled to be admitted to the United States.Understandably, ICE agents were 
concerned
 that this non-enforcement was not only illegal but dangerous. However, many feared that any effort to speak truth to power would leave them without a job.The lawsuit helped highlight an oft ignored problem. Though the judge found that the directive protecting "DREAMers" from deportation 
was illegal
, the agents were not given "standing" to challenge its implementation. In short, ICE agents 
must break
 federal immigration law because the administration illegally ordered them to.