The 12 Days of Amnesty...the 7th Day
On the 7th Day of Amnesty, the federal government revealed to me…
7,500 miles of U.S. border not under operational control.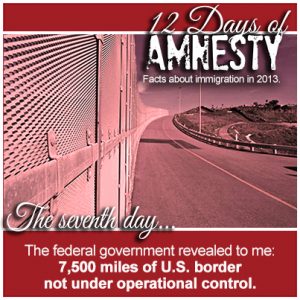 Recent reports
from the Government Accountability Office (GAO), the federal government's watchdog, found that an alarming 7,500 miles of U.S. border are NOT effectively controlled and protected.In 2013, the GAO reported that only 44% of the country's southern border is under "operational control" – meaning there is continuous detection and probable apprehension capability along less than half of the U.S.'s 2,000 mile border with Mexico.Even more shocking than our inability to secure and control our borders is the administration's lack of concern over this mismanagement. It has abandoned the operational control metric for gauging border security without formulating a new metric.In fact, despite the Obama administration's
rhetoric
that "the border is more secure than ever," the Department of Homeland Security (DHS) has no official measure in place for determining whether the border is secure. However, they continue to use the assertion to push their amnesty agenda.Unfortunately, House and Senate immigration plans
do nothing
to effectively improve border security. The Senate "comprehensive" bill makes no guarantees the border will be secured even after a massive amnesty and Rep. Mike McCaul's (R-Texas)
H.R. 1417
merely requires DHS submit a plan to secure the border without any accountability.