Issa Following Obama's Lead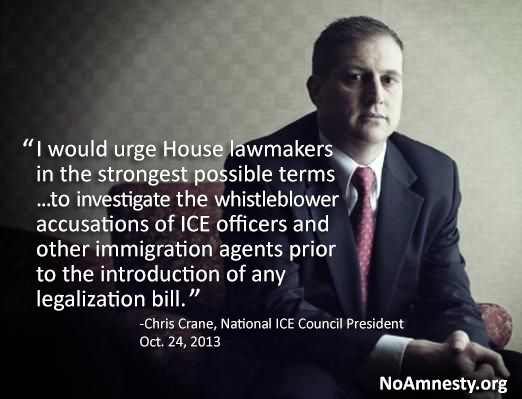 Yesterday, the National Immigration and Customs Enforcement (ICE) Council expressed concerns in response to Rep. Darrell Issa's (R-Calif.) forthcoming
amnesty bill
. ICE agent and union president Chris Crane, implored Issa to look into the Obama administration's rampant non-enforcement policies before passing new immigration legislation:
"The administration has ramped-up its non-enforcement directives, putting officers and the public in danger…I would urge House lawmakers in the strongest possible terms, including House GOP oversight Chair Darrell Issa, to investigate the whistleblower accusations of ICE officers and other immigration agents prior to the introduction of any legalization bill." – Chris Crane, president, National ICE Union, Oct. 24, 2013.
The
response
to the ICE agents' concerns from Issa's office was decidedly similar to President Obama's. Essentially, the Chair of the House Oversight committee has no interest in investigating whistleblower claims from ICE agents, nor does he have any intention of listening to their concerns with an amnesty bill:
"Rep. Issa has been a leader in seeking public input through the Internet on policy proposals and certainly welcomes any such input." – Frederick Hill, Rep. Issa spokesperson, Oct. 24, 2013.
ICE agents and employees tell the House Oversight Chair that the administration is asking them not to enforce laws passed by Congress and they are more than ignored; they are completely disrespected.Rep. Issa seems to be taking a page from President Obama. He's pretending there's no opposition to amnesty because he refuses to meet with anyone with any actual expertise in immigration enforcement. 
Tags