Md. County Urged to Investigate Contractor Reportedly Using Unauthorized Labor
[caption id="attachment_4863" align="alignleft" width="324"]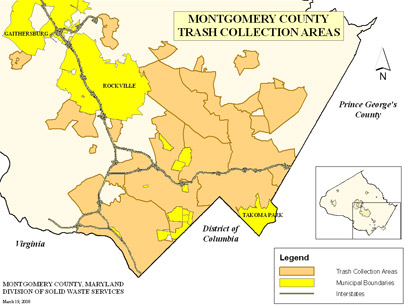 Map of Montgomery County, MD Trash Collection Areas[/caption]Potomac Disposal, Inc. one of Montgomery County's three contracted waste haulers, may be in violation of federal law for employing unauthorized aliens. Montgomery County, an affluent county outside of Washington, D.C., has engaged in a $5 million annual contract with Potomac Disposal for trash and recycling pickup at 40,000 homes in parts of Bethesda, Potomac, Rockville, and Silver Spring.In September, FAIR received reports that Potomac Disposal may be using taxpayer money to employ unauthorized aliens in violation of federal law. Last week, the State & Local department at FAIR sent a Request for Investigation to
Montgomery County officials
and the
ICE Maryland field office
regarding the potential violations.The issue surfaced on September 9 when about 50 of the 57 employees of Potomac Disposal went on strike, seeking higher wages, increased sick days, and health care benefits.The striking employees claim that the day after they signed a letter asking for these improvements,
Potomac Disposal's management attached federal I-9 forms
to the employees' time cards.
News outlets reported
that employees claim they had never seen an I-9 form before and interpreted this to be a gesture threatening immigration enforcement.
Potomac Disposal's alleged failure to comply with standard I-9 procedures and Montgomery County's continual contractual relationship with Potomac Disposal indicate both may be in violation of federal law.
Federal law prohibits knowing employment of unauthorized aliens. Further, federal law requires all employers to provide all employees with I-9 forms upon hiring to verify work authorization. Under law, employers are also required to maintain the completed I-9 forms on file and make them available to authorized government officials upon inspection. Montgomery County may be in violation of federal law because federal law makes it unlawful for any entity to knowingly contract to obtain labor of unauthorized aliens.
FAIR's Letter to Montgomery County, Md.FAIR's Letter to the ICE Maryland Field Office