State & Local Update: June 11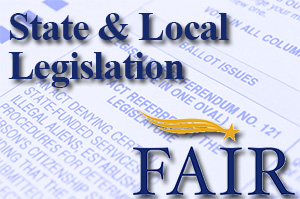 California
Assembly Bill 35,
 which grants ID cards and unemployment benefits to DACA recipients, has been referred to the Senate Labor and Industrial Relations and Judiciary Committees.
Colorado
Senate Joint Resolution 13-003
, which urges Congress to pass Comprehensive Immigration Reform, passed the House on May 24 and the Senate on June 4.
Connecticut
House Bill 6495
, which grants driver's licenses to illegal aliens, was signed by Gov. Dannel Malloy (D) on June 6. The bill requires:
Proof of identity by producing two documents from the primary list or one document from the primary list and one from the secondary list.  The primary list consists of (A) an unexpired foreign passport or passport expired for less than three years; (B) a valid, unexpired consular identification document issued by an applicant's country of citizenship; or (C) a consular report of an applicant's birth in a foreign country.  The secondary list consists of (A) a valid, unexpired motor vehicle operator's license, with security features, issued by another state or country, (B) a valid foreign voter registration card, (C) a certified copy of a marriage certificate issued by any state or territory of the United States, or any political subdivision thereof, including any county, city or town, (D) a certified school transcript, or (E) a baptismal certificate or any similar document;
Proof of Connecticut residency; and f

iles an affidavit stating that an application to legalize status has been filed or will be field when eligible (if ever) to do so.

Files an affidavit stating that an application to legalize status has been filed or will be field when eligible (if ever) to do so.
A person who has been convicted of a felony is not eligible for the license. The license cannot be used for federal ID purposes (as stated on the license) or voting in Connecticut. The license will state "for driving purposes only." The license is good for three to six years and may be renewed every three years. The bill creates a working group to study methods to verify foreign documents.  The report from the group with recommendations is due by February 1, 2014.  The driver's license provisions go into effect January 1, 2015.
Florida
House Bill 235
, which amended Florida's driver's license statute to add DACA approval as an acceptable document to establish lawful presence, was vetoed by Gov. Rick Scott (R) on June 4.  Florida law allows proof of identity, however, through an unexpired employment authorization document. Thus, the effect of the veto will only be felt by those DACA recipients who did not apply for work authorization.In vetoing the bill, the Governor stated that "[q]ualifying for deferred action status does not confer substantive rights or lawful status upon an individual; it does not create a pathway to a green card or citizenship; nor does it extend to any family members of the person granted the status either," he explained. "Deferred action status is simply a policy of the Obama Administration, absent Congressional direction, designed to dictate removal action decisions using DHS agency discretion. It was never passed by Congress, nor is it a promulgated rule."
Michigan
House Bill 4802
, which requires all county departments to use the SAVE program to verify lawful presence before granting assistance under the state Social Welfare Act, was introduced on June 6.
New York
Senate Bill 3879
, which requires all state and local agencies, and government contractors to register for and participate in E-verify, passed out of the Civil Service and Pensions Committee on June 3 and has been referred to the Finance Committee.
North Carolina
House Bill 786
, an omnibus immigration-related bill that guts North Carolina's E-Verify law and grants driver's licenses to illegal aliens, will be voted upon on the floor in the House on June 11.
Oregon
House Bill 3315
, which mandates E-Verify use by any contractor performing reforestation work on federal forestland, passed the Senate (29-0) on June 6.
Rhode Island
House Bill 5917
, which grants in-state tuition rates for students without lawful immigration status where s/he has filed an application for lawful immigration status, or will do so as soon as s/he is eligible to do so, is scheduled for hearing before the House Finance Committee on June 11.Other requirements that apply to all students:
Attended a Rhode Island high school for three or more years;
Graduated from a Rhode Island high school or received GED in the state;
Registered as an entering student or currently enrolled after 2010-2011 academic year.