State & Local Update: June 4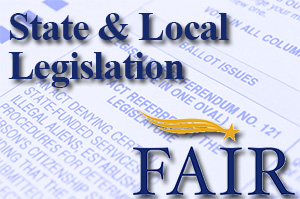 California
Assembly Bill 4
, the so-called "trust act," has been referred to the Senate Committee on Public Safety.
Assembly Bill 263
, which prohibits an employer from discharging an employee or any manner discriminating, retaliating, or taking an adverse action against an employee because the employee updates or attempts to update his or her personal information, unless the changes are directly related to the skill set, qualifications, or knowledge required for the job, was passed by the Assembly (52-23) on May 29 and has been transmitted to the Senate.
Connecticut
House Bill 6659
, an anti-detainer bill, passed the Senate (34-0) on May 31.
MassachusettsHouse Bill 133, which requires the Department of Transitional Assistance to establish a computerized income, asset, and identity eligibility verification system to eliminate public-assistance fraud, which includes immigration status checks, was heard before the Joint Children and Families Committee on June 4.
MissouriSenate Bill 75, which extends the right to obtain a concealed carry handgun permit to legal permanent residents has been delivered to Gov. Jay Nixon (D) for signature.
Nevada
Senate Bill 303
, which grants driver authorization cards to illegal aliens, was signed by Gov. Brian Sandoval (R) on May 31.
The card is valid for one year and cannot be used for ID purposes. Identity can be proven by foreign passport, foreign birth certificate, consular ID card, or any other proof the Department deems acceptable. The card cannot be used to determine eligibility for any state benefits, licenses or services. The bill also contains a provision that prevents the Director of the Department of Motor Vehicles from communicating the immigration status of any person who holds a driver authorization card to any person or federal, state or local governmental entity for the purpose of immigration enforcement.
New YorkAssembly Bill 2597, the New York Dream Act, passed the Assembly (90-48) and has been transmitted to the Senate and referred to the Senate Committee on Higher Education as of May 22.The bill creates the Dream Fund Commission whose duties include doling out the Dream Fund monies to children of "immigrants," defined as a prospective student who has at least one parent or guardian who "immigrated" to the U.S. The Dream Fund is funded by private contributions, commission members are not paid and are appointed by state government officials.AB 2597 also repeals subdivision 3 of section 661 of the education law which prohibited illegal aliens from being eligible for financial aid and grants. This law now opens up grants, aid (including reduced tuition and fees, books, and necessary maintenance), scholarships, and awards to illegal aliens who meet the following conditions:
a. Attended NY High School for at least 2 years or attended GED program in NY;

b. Received High School diploma or GED in NY;

c. Apply for attendance at college or university within 5 years for undergraduate student, or 10 years for graduate student;

d. File and affidavit with the college or university stating have filed or will file when become eligible an application to legalize status.
Oregon
House Bill 3315
, which mandates E-Verify use by any contractor performing reforestation work on federal forestland, passed the House (59-0) on May 28 and has been referred to the Senate Ways and Means Committee.