Gangs of Eight Finalize Amnesty Bills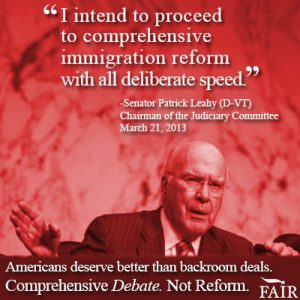 The latest news from Capitol Hill is that both amnesty working groups in the House and Senate –
the so-called "Gangs of Eight" – are finalizing their "comprehensive" immigration reform bills this week!
Right now, we need help contacting Members of Congress. Through April 5, both the House and Senate are on recess and many members are back at home and holding town hall meetings.
Both of these "Gangs" are expected to introduce legislation when they return on April 8.
Once legislation is introduced, the pro-amnesty "Gangs"  are expected to rush it through the relevant committees and to the  floors for a vote. They plan to give the American people as little time as possible to learn what's in the legislation before it's passed.In fact,
Senator Patrick Leahy
(D-VT), Chair of the Senate Judiciary Committee, has
already
said
he intends to "proceed to comprehensive immigration reform with all deliberate speed,"
and has indicated
he will not hold any additional hearings on immigration
once the Senate Gang of Eight introduces its amnesty legislation.The Gangs of Eight are purposely delaying releasing their bills because they know that Americans do not want amnesty and that if given the time to read and understand the legislation, it would have zero public supportPlease call them today and let them know that the American people won't stand for legislation written behind closed doors and rushed through the House and Senate.
If you need help making a call, click here to view our new Activist Toolkit. You'll find a helpful guide on how to contact your Members of Congress.