Attend Your Congressional Members' Town Hall Meeting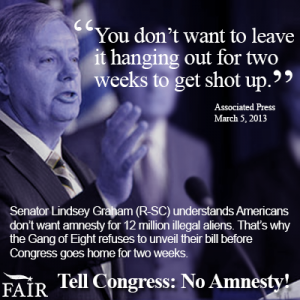 We need your help. 
Our sources on Capitol Hill tell us that an amnesty bill is coming out next month!
Why next month? Tomorrow,
Congress leaves for its two-week Easter holiday recess (March 25 to April 8), during which time many legislators will be hosting "town hall" meetings throughout their states and districts to address the questions and concerns of their constituents.Help us use this opportunity to tell them NO Amnesty! 
Click here to find your U.S. Senators and House Representative. Attending a town hall meeting is the perfect opportunity to voice your concerns
on immigration by telling your Member of Congress 
that you want immigration enforcement, not another amnesty.
We know that 
members of the Gang of Eight are purposely waiting until after the Easter Recess to release a bill.
Earlier this month, the 
Associated Press
reported:[Senator Lindsey] Graham said it wasn't a good idea to release the bill before a two-week recess.  "You don't want to leave it hanging out for two weeks to get shot up," he said. The legislation is certain to be controversial and may spark passionate opposition from lawmakers' constituents…Fearing the backlash they will receive at these meetings for supporting an amnesty, the Senate and House immigration working groups have indicated they are waiting until after
they return from this break to introduce legislation.  
Make sure you do not let them get away with such evasive tactics and hold them accountable while they are home!
The pro-amnesty lobby is already mobilizing its supporters to attend these town halls! Ensure their voices are not the only ones heard – 
click here to locate your Members of Congress to find out whether they are hosting a town hall near you.Be sure to bring as many FAIR friends as possible to attend and tell your Members that you want true immigration reform, not another amnesty! Tell them:
Granting amnesty to the nation's 11-12 million illegal aliens and importing more labor through guest worker programs hurts the 22 million Americans who are unemployed and looking for full time work.
Granting amnesty to illegal aliens rewards law-breaking and is unfair to those coming to the U.S. the legal way.
Granting amnesty will cost taxpayers trillions of dollars, especially following the implementation of ObamaCare.
Granting amnesty is not a solution to our nation's immigration problems. Instead, our borders must be secured and our immigration laws enforced.
Find your Members of Congress here.